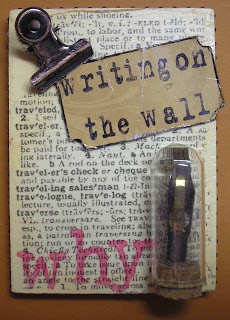 If you're already fed up with what seems to be an endless string of wood ATCs from me … welcome to a post with a couple more!
The first piece features a main element that is a domed 'jar' with a vintage pen nib and a clear sticker that I carefully stamped so that the bottle appears to have a weeny ink label.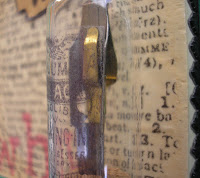 Wondering at the reason this creation also has "why" stamped on it in big red letters? Me too! I have no idea. I guess it seemed like the right thing to do. Now it seems like the stupid thing to do. But once the deed is done, as they say …
I think this "writing on the wall" piece is such crap that I wouldn't usually show it to you … but I adore the pen nib in the bottle with the tiny ink label! And, the Dresden edging. And the background. I guess I like all of the individual elements, just not the way I've put them together!
On to the blue piece. Here we've got a lovely tissue wrap background, inked in blues and stamped with a tree. My favorite bit on this ATC is the fence.

Do you remember the gothic arch charm I posted? Believe it or not I used one of the throw-away bits from that charm to stamp/emboss and attach as fence posts!
Honestly I think that fence is freaking brilliant!
Finally, my last wood ATC … until I have time to create another handful … is a departure from my usual grungy stuff.
Marilyn Monroe, one of the greatest beauties of all time, is looking damn near haggard in this photo. Of course that means it needed the snarky "hot like Marilyn" text!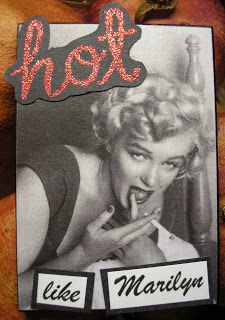 I mean, if Marilyn still seems desirable while she's holding a lit cigarette between two fingers, swiping a third finger across a colored lip, dazedly glaring at the camera from her uncomfortably reclined position … the rest of us can't look too bad when we're really, genuinely working what Mother Nature gave us. Right?
Totally … we've *got* it girls!
I'm also hoping that I haven't used that Marilyn image illegally. I spend two hours last night scouring the internet trying to figure out where I first found it, the name of the photographer, the publisher … anything that would reveal if this is a copyrighted or public domain image.
All I could find was a Web site run by someone who seemed to think they are "outing" Marilyn as a smoker. Congratulations Sherlock. You broke the case!