Challenge: The StudioL3 Compendium of Curiosities volume II Challenge, technique 14
Technique: Guilded kraft glassine, page 39
Sponsor: The Funkie Junkie Boutique
Main products used for this project: Kraft glassine, distress stain, paper stash-kraft resist, alcohol ink and idea-ology chit chat stickers.
Project observations: This technique always results in an amazing finished piece!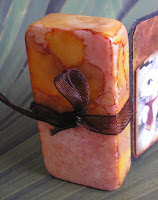 We begin with a sheet of strange looking and smelling waxy paper and end up with something that resembles a deep, colorful and shimmering mineral deposit.
This technique even inspired me to finally jump into creating a domino book!
After all, what else is more beautifully matched to our pseudo-mineral deposit paper than a domino marbled with the same alcohol inks you've just used on the glassine (thanks to Lynn for confirming that her beautiful dominoes are covered in alcohol ink!)?
Nobody can limit themselves to domino books, though! So, with the leftovers I made a small rosette!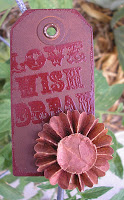 It's attached to a metal tag (roughly 1 1/2 by 3 1/4 available from this Etsy shop) that I stamped with Tim's "LOVE, WISH, DREAM" stamp, then used Martha Stewart's ladybug red to emboss.
For your own information, if you try this red on rusted metal embossing thing: My camera sees it as bright red on dark red … my eyeballs see it as bright, shiny on dark, dull.
It's cool in person, just not as bright and happy as my Olympus is pretending. My Guy describes it like this: In person it's leather, not rose petals.
Isn't that funny? That's how I could describe him!