Way back on October 12 a few of us announced the opening of The Pink Ribbon Warrior Women Blog Hop.
Each of us participating in the hop posted art to honor our muse, Sherry Goodloe, and asked you to join in the creative fun!
Eclectic Paperie sponsored our hop, and offered a fantastic prize package to the winner of the hop: Check out this post on Sherry's blog to see who won the Big Prize!
A couple of us offered up individual Prize-for-Participation promises as well: I'm one of those.
Today you're here to find out who won, and what she won, because my blog candy was a surprise.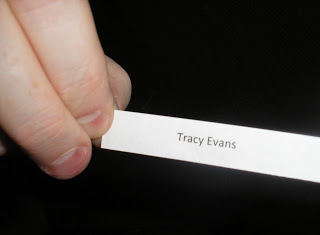 OK, with a little help from My Guy who kindly pulled a name from a hat full of possible winners, I'm happy to announce that Tracy Evans is the winner of the Not a Moment to Spare Warrior Woman blog candy prize!
And what did she win, you ask? Well, a gift certificate worth $25 at eclectic Paperie, of course!
After all, eclectic Paperie supported our blog hop, just like so many of our friends and family members support our cancer-fighting friends.
Which means I did a little pay back for a good and kind deed!
And, no, I did not choose Tracy Evans because we share a first name (spelled correctly, to boot). Her name was pulled fairly and honestly by My Guy who has much higher moral standards than myself.
Thanks to everyone who participated! Finally, Tracy, please send me the e-mail address to which I can send your eclectic Paperie gift certificate!