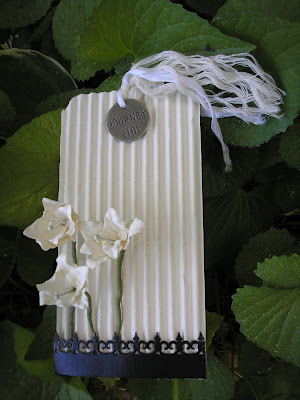 Linda Coughlin is the owner of The Funkie Junkie shops on Etsy and Zibbet, and wow does she have great stuff at great prices with the zippiest shipping in the world of art and craft supplies!
She also hosts the Frilly and Funkie Sunday Share that is bi-monthly during the summer, weekly the remainder of the year, and features creations made using products from her shops.
I'm a sucker for Linda's white corrugated board and couldn't resist finally creating a white-on-white tag that has been swimming in my brain for some time!
When I've shown up for this event in this past I've used the very same white corrugated board cut on the Tim Holtz tag L die (yup, Linda even has some of Tim Holtz's coolest dies at great prices). However, today is the first time that you can actually see that the corrugated board is white — look here to see what I usually do with blank spaces!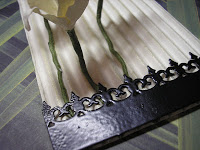 The remainder of my project components include three white, powdered lilies from Alpha Stamps, a philosophy tag from Tim's variety of idea-ology products, some ribbons and strings, and an edging cut with Martha Stewart's iron fence border punch (the edging and raised corrugations on the tag are clear embossed).
Maybe I'll come back before the end of this installment of Sunday Share with something that is not white corrugated cut with the tag die!
Until then, check out Linda's shops (note that she'll be on vacation after the 16th) and then drop in with your own Sunday Share art made with Funky Junkie ingredients!