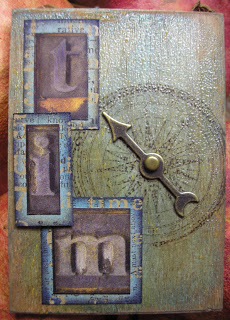 In this, Linda's final Compendium of Curiosities volume II Challenge, we've been asked to use our favorite technique from either of Tim's compendiums to create a card for The Master whose birthday is tomorrow (Janaury 7).
I've been focused lately on wood ATCs, so instead of a card I made a wooden, ATC-sized, Tim-specific magnet!
My favorite technique is Rusted enamel from page 41 of Tim's first Compendium. I use this technique so often that I've several times run out of clear embossing powder (one of the technique's main "ingredients").
As usual when talking about a technique from one of Tim's books, we don't give too many specifics, but please note that I used distress stain in place of distress ink for step five (because I'm working with wood rather than paper).
Alright, now that I've finished sharing the important challenge-related details I can get back to my normal silly, snarky self … with the following story.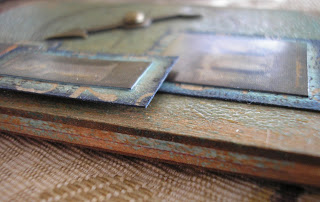 I've never been a joiner or follower or ever had interest in team-related activities, so around our house I am teased because of how often My Guy has to endure me talking about Tim or Tim's technique or Tim's new die or Tim's some such yadda yadda.
I should have a Tim fish on my car, rather than the Flying Spaghetti Monster.
Anyhow, when I finished this piece and demanded (I'm pushy) that My Guy give his usual critique he commented on the interesting color layers resulting from the technique and the stamped navigation sign, but said nothing about the name "Tim."
Just as I was about to ask My Guy why he hadn't given me his normal smarty-pants, falsetto exclamation of "Oh Tim!", he said "I'm surprised you didn't make a locket so you could keep Tim close your heart."
Why can't I ever learn to simply walk away before there's time for mocking?