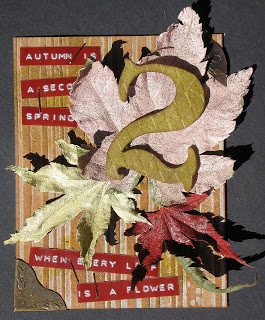 When it comes to Fall even the most devoted outdoor-o-phobes would have to admit that they love to see the leaves change.
Maybe that love exists only about as long as it takes for the first brightly-colored bits to create a pile on the sidewalk, but nothing lasts forever.
Much like my piece for this week's Drunken Stampers Challenge: Salute to Fall: This creation is definitely not going to last longer than a few days.
My background is a chunk of textured Grunge Board, inked with Vintage photo distress ink and stamped with an actual leaf dipped in crushed olive, then Colorbox gold … don't feel badly that you can't see that part … I'm right here and can barely see it.
The quote "Autumn is a second Spring when every leaf is a flower," is one I found online: The various additional embellishments are from here and there and everywhere and the Japanese maple near my front door.
What? You've never seen Japanese or dwarf maple leaves that looked like this? Well then! Let me introduce you to my newest "Using What I've Got Technique."
I plucked one dwarf maple leaf and two Japanese maple leaves from the trees, covered them in embossing ink and distress embossing powder and cooked the crap out of 'em with a heat gun.
Tada! A fun and delicate piece that elicits a strange, tormenting style of humor (My Guy suggested I give this creation to someone so they would feel badly when it falls apart). There you go, folks. I said a few days ago that he's the smart one. I didn't say anything about nice.
Now it's your turn! Grab your favorite drink and stop by the Drunken Stampers to show us how you honor this lovely season!