Linda Coughlin's current Frilly and Funkie Wednesday challenge is texture with a "fabric twist" while Lily Chilvers at The Octopode Factory Friday challenge has asked that attendees bring a tag to her party.
It's been ages since I've found time to participate in either of these wonderful ladies' challenges, so I couldn't deny such simple and fun requests!
My tag's first stop of the day was in the spray booth where it received a decent coat of homemade perfect pearls spritzer in crushed olive.
After drying, the tag's edges were inked with crushed olive distress ink, and a corner was stamped with perfect medium (can't remember where the stamp came from) and embossed with pearl carnelian.
I love adding texture with heated embossing, so I decided to take up Linda's fabric twist challenge with a bit more heat embossing: This time on a chunk of fabric that was run through a Vagabond with a mini labels die.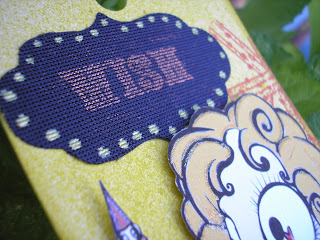 Lettuce dimensional pearls adorn the edge of the label.
Colored on a computer and embellished with Zakura stardust pens, our Whimsical Going Somewhere Girl Jolee, is attached with mounting tape so she's got a lot of depth (as all girls do).
Finally, we've got a few pieces of ribbon on top of the tag that is ready to adorn the birthday gift of someone special!
Thanks for dropping by and don't be shy … leave a comment!