Holy Hell people! Is there anything in the world that is better than starting with something plain, dressing it up and then beating it down again? Just to make it Oh-So-Chic?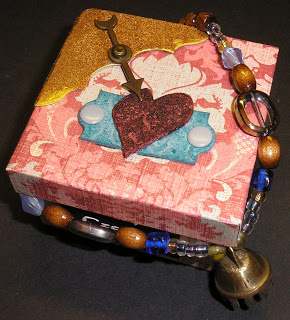 Well, anything better aside from a pint of Guinness on a hot day or an especially well done margarita? Alright, honestly we might be Jonesing for a trip to the pub.
Despite that, I've finished my project for the 12th week of the Compendium of Curiosities Challenge at Studio L3 and am awfully pleased with this item.
Of course, it only took four homemade cocktails, several rounds with the heat tool, a SPECIAL trip to the craft store and six hours … but STILL! It's as if it just came together magically!
Honestly, people, you'd think I had a solid plan right from the beginning … the other five hours were, ahm, refreshing the cocktail … or waiting for glue to dry … or rethinking/reworking/redoing my original idea?
Anyhow, if you haven't yet picked up a Compendium and therefore have not yet participated in the Challenges over at Linda's blog … what are you waiting for exactly?
Time is short, folks! Jump over to Studio L3, check out the superb creations from around the globe and then off with you to make something so amazing the rest of us will drool with jealousy! Go!