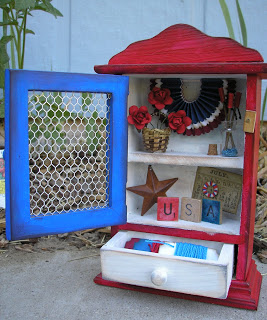 My first ever Inspiration Journal challenge piece was so fun to create!
Starting with the challenge theme of red, white and blue I was inspired to create paper and toothpick bottle rockets, paper rosette bunting, a basket of roses (although I bought those) and one or two additional bits of Americana-esqueness.
Also in honor of America, where we've been known to do whatever the hell we want, I'm making up my own words.
My base cabinet is a light pine piece that we found at a garage sale last summer. It's spent the past year on a shelf in my craft room, whispering taunts: Nyah, nyah, you don't know what to do with me.
I hate it when projects talk.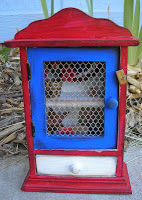 Anyhow, at first glance the work from the inspiration team was so amazing that it was hard to dig up the courage to join the challenge. Then I relaxed with a couple of pints of Leinenkugel's Summer Shandy.
Who knew that alcohol lowers inhibitions?
OK, on to the project specifics: The cabinet is painted with Claudine Hellmuth's wonderful semi-gloss paints and the edges are inked with Tim Holtz's tea dye distress ink. I found the paper roses HERE on Etsy.
The bunting is made using plain old dime store card stock in red, white and blue (does anyone younger than GenX know what a dime store is?), cut from Tim Holtz's rosette and mini rosette dies.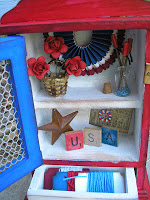 The calendar, too, is a Holtz thing (paper stash) as is the wee glass bottle.
I spelled USA with vintage Scrabble tiles that are colored with alcohol ink (and aren't nearly the clever idea I'd thought since you can see on the Inspiration Journal link that I stole the idea from Linda Cain – Linda, I swear I didn't intentionally copy you!).
That's all I can think of that's interesting, but if you have questions or comments I'm happy to respond!