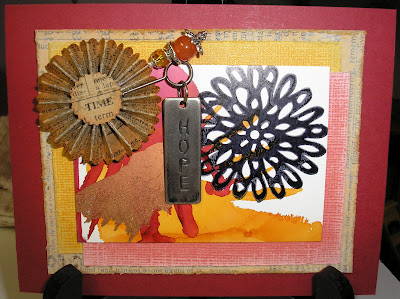 Tim Holtz's July tag for his 12 tags of 2012 is so beautiful and patriotic! Bright sprays of blue and red on a field of white with a Lady Liberty even!
Obviously I didn't go with the patriotic style, but I do have a piece that I think works well with Tim's alcohol ink fireworks and core'dinations layers.
My piece is intended as an invitation for a group that has long supported Planned Parenthood Mar Monte, the organization for which I toil.
We're involved in the Northern Nevada AIDS Walk in August and want to reach out personally to this group to thank them and invite them to continue supporting our goals, including providing free or low-cost STD testing and medically accurate sex education.
I don't know how a hat pin style embellishment, alcohol ink fireworks or sanded card stock relates to HIV/AIDS awareness, but I'm confident that this unique card will communicate our grateful feelings.
If not, I'm optimistic that at least you will like my card!
And, I'm anticipating your participation in this months' 12 tags series! Dig out your gloss stock, a few favorite colors of alcohol ink, and a can of compressed air, then go HERE to see how Tim can help you turn those into a fun day in your art studio!