Wow, this week's Studio L3 Compendium challenge is awesome!
I mean, I assume it's awesome. I didn't have any of the correct stuff required for the challenge.
So, my creation combines elements including paper from "This Book Will Change Your Life" (it won't, but it's somewhat fun anyway), an Altoid mint tin beat up slightly to ensure the embossed text doesn't show through, three colors of distress inks, a velvet flower brad and an S.E.I. metal leaf.
Oh, and just a wee, little bit of Mod Podge.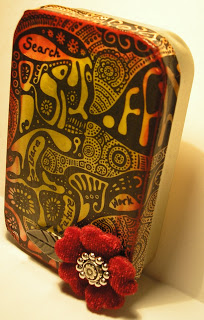 Still, the overall idea, more or less, started with the Holtz instructions from page 66 of the Compendium of Curiosities.
Why didn't I just go to the freakin' store to purchase the correct stuff? Because we live, more or less, in Uganda. And the nearest craft store is in Canada. And I'm home for the week on vacation, so I couldn't see driving all the way into town for a bucket of goo and a tin bird.
Plus, Mr. Holtz has received almost every dime of my recent craft budget, which is currently supposed to be zero.
Anyhow, I figured out that when you ink over an image, then brush over this with Mod Podge, your inks blend together nicely.
I think I'm going to go in search of a black and white sunset image to ink and Podge …
Meanwhile, don't you forget to drop in on Linda and join the challenge!