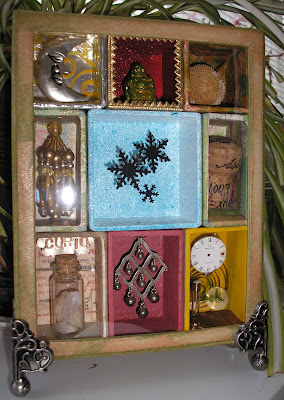 Challenge: The StudioL3 Compendium of Curiosities volume II Challenge, technique 11 and 12
Technique: Configurations part 1 and 2, pages 33 and 34
Sponsor: Mario!
Main products used for this project: Configurations box, foundations box feet, color wash, distress crackle paint, clear embossing powder, snow white paint dabber, and little bits of nearly everything else in my craft room.
Project observations: Check out A Compendium of Curiosities volume II and you'll see that once again I meandered away from Tim's instructions.
Only a few of my configurations compartments are papered, and the remainder are painted, spritzed, glittered and crackled. Also, the exterior of my creation is finished using Tim's rusted enamel technique found on page 41 of his first Compendium.
So, I'm sure you're wondering how I finished this project in just 24 hours.
I didn't.
This one consumed minutes and hours here and there since I received the second Compendium a couple of months ago. It has been finished for a couple of weeks, but I'd decided to save it's unveiling for this challenge!
The box was so fun to make that I'm now putting together another … maybe I'll have a second one to post before Linda's July 12 deadline!
Thank you for dropping by and let me know if you have questions about any of my configurations compartments!