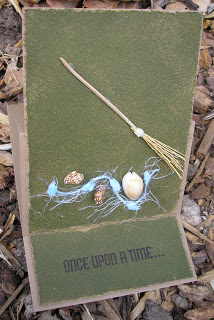 A coworker recently wed her love in a Pagan ceremony that took place on a California beach.
She's a wonderful woman — smart and funny and grounded — for whom I wanted to make a special card that would be meaningful to her beliefs and her particular ceremony.
An evening bonfire event, her wedding also included a hand fasting and broom jumping, so I began with a simple pedestal card in dark Kraft stock.
I coated the pedestal base and the "cover" base in peeled paint (green) distress emboss powder, which I then rubbed until the texture was softened, like beach sand.
The embellishments are a broom made of wheat stalk from our back yard, shells off of broken necklaces and a wisp of shimmery blue fiber.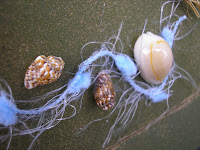 Finally, I added the sentiment "Once Upon a Time" to the pedestal base because this obviously brings to mind the perfect ending to all weddings: Happily Ever After.