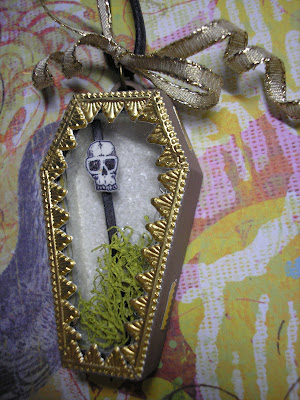 The Masonite shrine kits at Alpha Stamps have had me drooling for some time, so you can imagine how thrilled I was when I simultaneously found myself with a few bucks to spend on crafts and a new-to-me coffin shrine charm for sale at Alpha Stamps!
My original idea included one or two flowers dipped into UTEE: You should be looking at a dark, New Orleans style coffin and fence and dark flowers with dripping moss.
As usual though the difference between what I think a size means and the actual size resulted in me purchasing flowers that, while small, are not nearly tiny enough to squeeze into one of these coffin shrine charms.
This flower issue nixed my original idea, but drove me to this completed project that includes a shrinky skull drawn by My Guy (but I carefully trimmed and shrunk it — aren't you impressed?).
The gold elements on the coffin are bits of Dresden border, also from Alpha Stamps, and the green moss is real moss that came home on our Christmas Tree!
The moss element is cooler still because this fun wearable art is made for a friend who also is the person we join every year for Christmas Tree hunting and for Halloween celebrating!