Challenge: The StudioL3 Compendium of Curiosities volume II Challenge, technique 7
Technique: Brushless watercolor, page 49
Sponsor: Eclectic Paperie
Main products used for this project: Distress stain, paper stash retro grunge, rock candy distress stickles, ideaology numerals, and the mini paper rosettes die.
Project observations: After finishing the background that is made using the technique of the week I waved it around in My Guy's face and demanded he provide input.
In hopes of making me quickly move along, he said approvingly, "Neat. It looks like watercolor."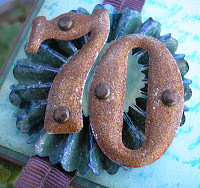 Isn't he the greatest guy ever? He always knows exactly what to say!
Anyhow, my actual point is this: The brushless watercolor technique is cool as hell! It's not very complicated and is useful for creating a background, as I've done, or for the focus of a piece of art. Just check out what Linda did with her brushless watercolor!
Thank you for checking out my art today, and I'm looking forward to seeing where brushless watercolor takes you!