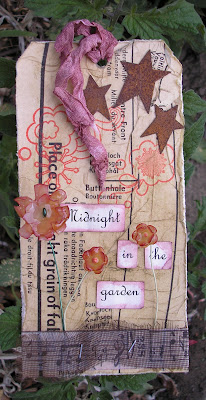 This month's 12 Tags, another in the series hosted by Tim Holtz, involves a lot of fun inking and gluing and grungy ideas, and something that has recently become my favorite technique: Paper flowers dipped in Ultra Thick Embossing Enamel.
The first time I saw this method was at The Funkie Junkie blog. Linda Coughlin, who owns the Funkie Junkie blog, Frilly and Funky challenge blog and stores on Etsy and Zibbet, used paper flowers cut with the Tattered Florals decorative strip die.
Today's version is from Tim of course and employs teeny paper flowers on wire.
I only had two itsy bitsy paper flowers on hand, but wanted three for my midnight garden, so I made a third with a bit of colored copper wire and plain printer paper cut in the style of kindergarten students making snowflakes — it turned out beautifully, don't you think?
Another element that is unique enough to babble about are my homemade version of Tim's chitchat blocks. They're printed on buff-colored card stock, trimmed out and lightly crumpled. Using an alcohol-ink applicator tool that was dipped into a pool of Victorian Velvet Distress Stain I colored the edges of the blocks.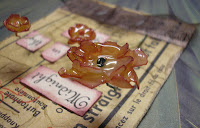 Ensuring that the tool was very wet with stain resulted in a wonderfully blotched and soiled-looking design perfect for a grungy garden sign.
Finally, since I'll be adding this to the link list at Frilly and Funkie's Sunday Share, let's look at what I used from the Funkie Junkie shop: Three rusted metal stars, a small piece of rusty tin mesh, ribbon (dyed with distress stain) and a manilla tag, cut with a die that also was purchased from Linda's store.
OK, I'm off to play with some brush less watercolor that is the topic of the week at StudioL3.
Thanks for visiting today and let me know if you have any questions!