Challenge: The StudioL3 Compendium of Curiosities volume II Challenge, technique 6
Technique: Tissue wrap collage, page 38 
Sponsor: The Funkie Junkie's Boutique
Main products used for this project: Paint dabber, tissue wrap terminology, archival ink, Ranger shrink plastic and alcohol inks (to color shrink plastic).
Project observations: Happy Sunday! The better part of my Saturday was spent with sticky, inky and grungy fingers because this tissue wrap technique is so much fun that I had to make a bunch of stuff!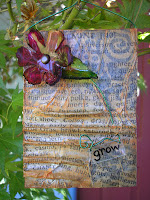 The two best are shown here, and I'm excited to report that this technique has so inspired me that I'm going drop by friends' blogs then get back to the craft desk … can't wait to play some more!
One more thing before I rush off: The corrugated card board piece is ATC sized (2 1/2 by 3 1/2) and the flower and leaf were cut from shrink plastic using Tim's tattered florals and leaves. Also, the background "stamping" on this piece is actually free-hand Sharpie drawing!
Enjoy the upcoming week everyone!