Challenge: The StudioL3 Compendium of Curiosities volume II Challenge, technique 5
Technique: Shattered stains, page 48 
Sponsor: Simon Says Stamp
Main products used for this project: Distress stain, rock candy crackle paint, grunge board and chip board.
Project observations: Our technique of the week calls for a product "like grunge board" and should maybe just go ahead with a firmer statement. For instance, "if you don't use grunge board this technique will work, but will surely drive you nuts trying to get it right fifty times before you just do what you were told in the first place."
That's awfully wordy though and not terribly friendly sounding. Definitely not in the style of our Grungy Guru Tim Holtz, or our Compendium Coach Linda at StudioL3.
Technique followers this week might want to go straight to the grunge board is all I'm saying.
Chip board came out for my initial attempt, and then a couple more, before I figured out that there's another word that our Tim uses which is imperative: Porous. Chip board, much of it anyway, has a sort of non-pourous finish. It'll let through a small amount of … well, you need to get the book and check out the technique to understand fully. Trust me though that it's not what you want to use, at least at first.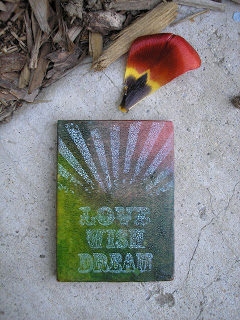 On the other hand, if you're caught up with the trick to this technique, try out this uber cool porous surface: Wood!
At the local Habitat for Humanity Restore we found a strip of poplar wood, 1/4 inch thick, four feet long and four inches wide. In reality it's measured, or described I guess, the same way as a two by four.
You know about those, I'm sure: A two by four isn't at all, it's actually more like an inch and a half by three and a half. Perfect to chop down for an ATC, luckily my poplar strip isn't any different.
Best of all, even if you slather it in crackle and ink and paint and goo, a thin business card magnet will hold it tight on a metal surface! Yay magnets!
And, yes, in case you're keeping a tally: This is another of the newest Compendium techniques that you can be sure I'll use again and again.