Challenge: The StudioL3 Compendium of Curiosities volume II Challenge, technique 4
Technique: Faded Layers, page 43
Main products used for this project: Manila tag and ATC, various rubber stamps, floret mini mask, distress inks in multiple colors, and archival ink in black.
Project observations: The Faded Layers technique is wonderful because it's so easy to create a very unique piece of art!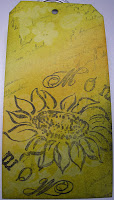 Just drop in at StudioL3 to check out what everyone has been doing with this simple technique!
Obviously you can see that I'm not posting finished pieces, but it has nothing to do with the technique: Unless someone out there who wants lots of random art stuff is going to pay me really well with a reasonable amount of vacation time and excellent benefits … my job is sometimes going to take the priority.
And other times just hanging out enjoying a Spring evening with a cocktail wins the top spot.
Getting back to the point: My intention for now is to add some elements including sea shells, dried flowers and ribbon. However I probably won't have time to glue and dry and photograph and post between now and the deadline on Thursday evening.
Are you wondering what will be keeping me so busy?
Well, for one thing, I'll be in town trying to find the three ingredients Linda has mentioned might come in handy very soon … and some archival ink in a color other than black, which would have been unbelievably useful on this project …
Or maybe I'll spend a few hours making some more Faded Layers because they are so beautiful!