When I saw the white corrugated cardboard at The Funkie Junkie's Boutique on Etsy I couldn't wait to get some and play, play, play!
Then I saw a few other bits, including a die that's been making me drool forever and some wonderful rusty primitive stars and such.
Finished up the shopping cart and woohoo, a couple of days later I was standing at my work desk putting together the most gorgeous white corrugated tag with white fabric and white lace embellishments and a single rusty star. How pleased was I? Pleased people. Tickled freakin' pink.
Right up until my guy walked by, peeked his nose into my business and said "Wow, that looks like a wedding."
Weddings are definitely not my thing, but more importantly this creation was supposed to be chic, vintage, French sort of thing. Not a wedding tag. I don't even know anyone who is getting married.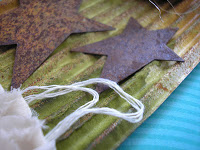 This led to thoughts of color and texture and then zoom … we now have a tag sprayed with color wash, embossed with vintage photo distress embossing powder, and pools of more lettuce color wash applied with a cotton ball that ended up leaving behind odd, wonderful bits of fuzz.
Because when I decide to switch gears I leave the road altogether, bumping along dirt paths and the occasional sidewalk.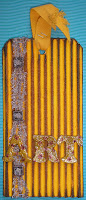 Now I have a tag that I'm happy enough to have created, honestly it's not bad at all, plus this white corrugated board is such fun to work with … but what the hell happened to chic, vintage and French? At least we've still got a little vintage.
My second attempt, just look … it's yellow. Yellow! In what world is sunshine yellow also chic, vintage and French?
Does anyone know if the word "art" is derived from a French term? It's really my last hope to pretend that I can stick to an idea.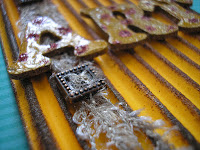 If you think of a way to make this mess chic and French let me know: In the meantime, please drop by the Frilly and Funkie blog to see what the Funkie Junkie and her team are creating!