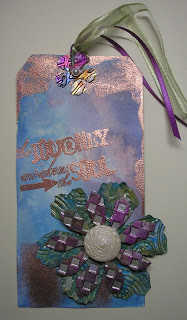 Challenge: The StudioL3 Compendium of Curiosities volume II Challenge, technique 3 and 2 (I couldn't make it last week)
Technique: Marbled Stains, page 46 (Faux Patina, page 58)
Sponsor: Eclectic Paperie (Angie, who has since started a blog!)
Main products used for this project: Manilla tag, aluminum can flats (to create Tattered Florals), texture fades, alcohol inks, distress stains, perfect medium, and Martha Stewart embossing powder.
Project observations: StudioL3 owner Linda, who I swear must be able to read minds, has managed to surprise me with a happy coincidence this week: You see after a long few days of sadness and sickness, Thursday evening found me finally feeling well enough to wish for a little crafty distraction.
Too late to participate in the second of the CC2Cs, I decided to relax, no pressure, flip through Tim's newest Compendium, choose any technique that seemed intriguing.


Guess where I landed! Can you believe it? PAGE 46! MARBLED STAINS!
I giggled a bit to myself this morning when I saw that Linda's choice for this weeks' challenge was the technique I'd played with only last night. The giggling didn't get far though since I'm still not able to quit coughing and my sinuses have reached maximum capacity.
Oh well, clearly you can see that I managed to play for a couple of hours last night and again this afternoon (even sliding in a bit of homage to last weeks' challenge after all).
This tag turned out sort of, ahm, finished. That's about all. I like the flower element and the shiny copper embossing and the background, but I'm not thrilled with the result as a whole.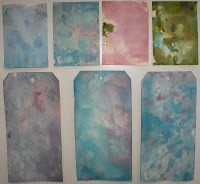 And, FYI, I suck at Marbled Stains. I can stain, everything within a few feet actually, but the marble effect is a struggle. I photographed a grouping of my attempts, because I know how everyone likes to see mud, including one where I obviously gave up marbling to concentrate on a technique I'm planning to patent as "Splattering Wildly".
One last thing to point out is the lovely pearly-colored centerpiece on my faux patina flower at the bottom of the tag: It's a lovely UTTE embellishment made by none other than Lori at I Been Thinkin' 'Bout Inkin'! I hope you'll take a moment to visit her blog: She's funny as hell and creates beautiful art!
Go forth then my friends, visit Linda at StudioL3 and get your fingers inky!