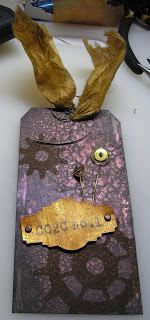 Challenge: The StudioL3 Compendium of Curiosities volume II Challenge, technique 1
Technique: Custom foam stamps, page 66
Sponsor: Simon Says Stamps
Main products used for this project: Black chip board base, homemade perfect pearls mist, perfect medium (stamping), vintage photo distress embossing powder and re-purposed watch parts. 
Project observations: Welcome to the first CC2C everyone! My version of this technique doesn't employ one of the products described in the book, which I can't afford at the moment, but instead uses plumbers' rubber that can be found at home improvement stores.
Although this project also doesn't feature additional, matching die cut pieces utilizing this technique in the future will be awesome for layering in shadows and creating surface veneers that can only be achieved with a stamp.
Stamps I cut promptly after the gadget gears used here include the Caged Bird, Regal Crest, mini flourish (correct name unknown) and the mini Gadget Gears.
Frankly, this entire technique is simply another reason for me to want all of Tim's Sizzix Alterations dies. As if I needed one.
Please visit Linda at StudioL3, and take a moment to view what everyone is creating this week!