Last week The Octopode Factory Friday challenge was Mushrooms. I made three very lovely Octoshrooms complete with glow-glitter spots.
Unfortunately my adorable glowing 'shrooms weren't cool enough to stop time and I didn't finish a project before the deadline.
Now you know why my card for this week's challenge, Royalty, is filled with nearly as much royal frog-i-ness as it is psychedelic fungus.
The card background is black light weight chipboard coated in multiple sprays of homemade perfect pearls mist, then coated with generous blobs of dimensional pearls in white and lettuce which I spread around with a fingertip, and sprayed again with more homemade pearl mist.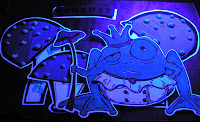 Can you see anything except the dimensional pearls? Me either, and I'm here in front of the card. The homemade shimmery mist disappeared. Oh well. I know it's there and that's enough.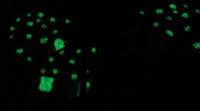 The Octopode mushrooms were colored on the computer, printed, trimmed and embellished with Martha Stewart glow glitter.
Our frog prince is a My Guy original! That's right! I needed a princely frog and My Guy kindly produced this "digistamp" for me! Mr. Prince is colored by me with Prismacolor art markers.
The card is finished with the inside sentiment "Your Prince Will Come."
Show off your own royal inventions with the crowd at TOFF before Friday, I know they'd love to see you!
And, assuming you're not easily upset by, erm, Adult Content, head over to the Wikipedia entry for The Frog Prince (story) and read the entry referring to Jean Johnson's version of this famous fairy tale.
Things sure change when you get away from Mr. Disney and his super safe sugar filled stories.