Lately the CuddlyBunny Craft Machine has been turning out wee shadow boxes!
For this recipe the main ingredient is one teeny box, like the party favor tins available at most big box craft stores, and those found here at AlphaStamps.
Otherwise, you pretty much need whatever you'd like to see inside, and outside, of a mini box.
If you clicked up there on that AlphaStamps link I've already lost you, but that's OK because the stuff there is awesome fun. And because it's more or less where I got the idea!
Anyhow, my piece here is a simple one for a friend who loves Romance with a capital "R".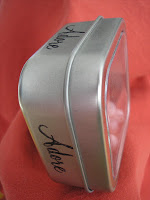 The picture is from a TwistedPapers collage sheet (maybe it's too late to mention this, but that link goes to risque French postcard imagery, so careful clicking for those of you who are prudish).
I pasted the picture onto a piece of heavy stock cut slightly smaller than the interior of the box and then attached two pieces of felt. This I slipped in without attaching to the base of the box, so that as the added inside elements, including beads and a button, moved around, the picture occasionally moves as well.
After gluing the lid onto the box (no stealing those beads!), I used Archival Ink to stamp "Adore" on each side of the box and stuck half of a business card magnet on the back.
Unbelievably, that's all there is to this lovely little box that is light enough to display on a refrigerator or other metal surface.
Other boxes I've made, but not yet photographed, have 3D effects inside, lace around the lids, Tim Holtz tissue tape coverings and handmade charm embellishments.
Those of you who stuck with me this long, thank you! Now scroll back up to that AlphaStamps link to check out what the artists there have done with small shadow boxes, because theirs are so very wonderful and inspiring!