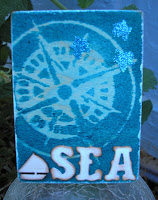 Delving further into art styles and mediums that I enjoy working with has led me to create Artist Trading Cards using balsa and pine.
Sometimes I keep these simple, with only a coat of distress stain over a mask and a few letters or a wood die cut for statement.
But when I'm feeling like going crazy with hours of layering and inking and embellishing we begin with one of these wonderful Masonite window panes from AlphaStamps, and end up with a window through time.
I'm also fond of vintage images, usually incorporating something from the Graphics Fairy or from Twisted Papers' risque collection.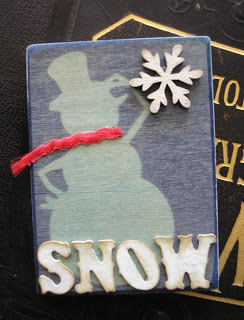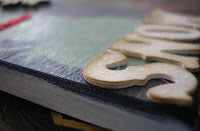 Another common element are aluminum or multiple-paper-layer letters cut from the Alterations Carnivale strip die. As you've read here before I've discovered in myself a fascination with creepy circus imagery and the Carnivale font fits in perfectly (even when I'm not trying to go all crazy clown cabinet).
Depending on who I'm planning to give the piece to I might also add a hand-cut and -folded stand, a bit of magnet or just nicely finish the back: After all, a wooden ATC with a frame is thick enough to stand on its own.
The only negative thing I've found about these little pieces of portable art is that they are so fun and easy and quick to make that I often put one together, wrap it up and ship it off before taking a photo or only remembering at the last moment to click a pic. Which means many of these photos are even more wonky and out-of-focus than my usual half-assed photographs!
Post a comment or drop a line if you're interested in a more specific explanation of any of these projects, and add a link if you've got your own version of a wood ATC to show off!