Lily Chilvers' wonderful Saint Valentine Octopode joined me yesterday to create a lovely and slightly strange Valentine's Day tag for My Guy!
Our Saint Valentine is a winged creature with a long, night cap-like hat and what appears to be a quite dangerous bow and arrow of love, making him absolutely perfect for a Valentine's Day gift, don't you think?
Me too!
Alright then … the background was made using a Cuttlebug folder that imprints damask type swirls coupled with skulls and crowns.
That surface was inked with Fired Brick and Black Soot Distress Inks using the heat embossing technique "Rusted Enamel" from page 41 of Tim Holtz's Compendium of Curiosities (the only week I go without using the Rusted Enamel technique is the week I don't craft anything at all).
A slimy-looking border of drips at the bottom of the tag was created using Martha Stewart's goo edge punch on heavy, black card stock that was coated with Perfect Medium and Ladybug Red embossing powder. After heating we see that the drips look realistically wet and icky.
Yay! Wet and icky Valentine's Day! Is that even appropriate?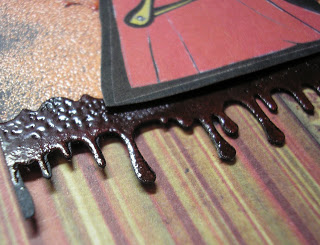 Ah well, on to the text: For the word "love" we have Tim Holtz's grunge letters finished using Double Distress, another of the Compendium techniques (page 40).
The final addition to this tag was the ribbon-esque string made instead of foil-wrapped wire garland that you can find at dollar stores.
The garland doesn't quite match the tag since the bulk of this project has a dark, matte appearance, but what the hell. I didn't have black or Spanish red ribbon. Plus, if one isn't careful holding this tag the garland wires might draw blood.
Let's hear three cheers for a Valentine's Day blood-letting!