Through the past few months I've become intrigued and inspired by the art of Nichola Battilana at Pixie Hill.
Her works should be pictured in the dictionary, as they say, alongside the words whimsical, eclectic and breathtaking.
Try as I might, the visual fullness and decadence she provides in her art eludes me, but I've managed to at least complete a handful of pieces that incorporate some of the techniques and objects she uses.
There's the cabinet I posted last week HERE. And now, today's reveal: My Moon Rise Mountain solar box.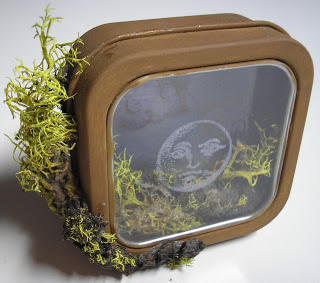 These creations are obviously much different from Battilana's works, which is fantastic because I'm not attempting to copy her art.
However, I'll be happier when I more closely mimic her full, too-much-to-ever-see-it-all design and when my finished pieces suggest an organic and natural origin, as if Rhea and the Oreades personally lent a hand in the creation.
Ah, well. I'll get there eventually. In the meantime I'll continue this joyful sharing with you and hope that if you haven't bounced over already … you'll now visit Nichola at Pixie Hill because her work is truly amazing.