I hope all of you have been enjoying the season of the witch, werewolf and horrible sexy kitten costumes for children (yup, actually saw a sexy kitten costume for a child — I really hope karma is on the way to that company).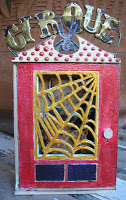 Anyhow, it's such a pleasure to see all of the art you've been showing: Skeletons, crows and graveyards abound everywhere!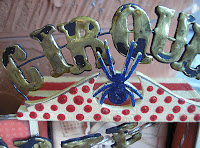 My own reach into the beautiful, strange darkness that is Halloween made use of a Haunted Door Shrine Kit from Alpha Stamps.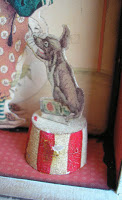 So, you can pretty much stop reading here and check out the photos, or keep reading to learn how I put together the various shrine elements! Thank you for coming this far, and if you're one of the steadfast souls in the path of Sandy, may you find safety and calm to ride out the storm!
This project, roughly the size of a chunky ATC, is covered in acrylic paints that I crackled, aged and inked for a vintage finish.
The shrine interior is lined with designer paper, inked and edged with black paint for aging effect. Our circus clown, and performing dog, are Antikamnia images.
Text, Cirque Mortel (which hopefully means, more or less, Deadly Circus), was cut multiple times from black stock on Tim Holtz's Carnivale Sizzix strip. Each letter cut was stacked and combined until each letter is roughly 1/8 inch thick.
These were carefully dipped in gold Ultra Thick Embossing Enamel. The "Cirque" text was attached to blue-dyed copper wire on the top and the "Mortel" text was attached with a twine that tucks inside of the shrine when closed.
Hey! You're still here! Thank you again! Have a great Halloween week!
p.s. sorry about the wonky ass layout here … I don't know what the hell Blogger is doing … maybe it's a Halloween TRICK or treat!