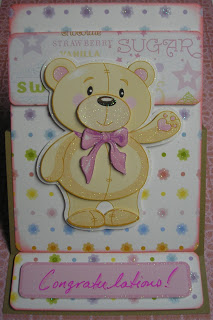 Today's project show-and-tell is something I completed back in late August, right before I went on sabbatical.
It's another reveal that deserves big time thanks, this time to Sandy Ang at Sandy's Space. A beautiful woman who creates unbelievable art, often with designer papers, she chose me as a winner of some pieces from Fundamentals and Ruby Rock It's decoupage line.
The card you see here is a pedestal style using a sweet teddy bear Fundamentals decoupage that is perfect for a brother-in-law who is expecting the arrival of a baby girl.
You can't imagine how easily the pieces punched out of the sheet that has an entire second teddy bear set, nor how cleanly they came out — only a few "chads" to trim. Then I got another happy surprise when the layering went together quickly and neatly.
Look at the layers!
All I had to do was choose background paper (Die Cuts With a View), ink a handful of edges and TaDa!
Isn't this wonderfully cute and glittery? Isn't this the card you'd expect to see on a pink-wrapped package for a baby girl?
You're maybe thinking to yourself "Um, yeah, great for a baby girl … a little weird for me and my adults friends."
Ruby Rock It's has you covered with some gorgeous Victorian-style images such as birds and flowers. I'll show off some of these in the future, but for now take a look HERE at Sandy Ang's blog. There you'll see some of the amazing RRI decoupage pieces she has put together.
Thanks again Sandy, for your kindness and sharing!