'A large rose-tree stood near the entrance of the garden: the roses growing on it were white, but there were three gardeners at it, busily painting them red. Alice thought this a very curious thing, and she went nearer to watch them, and just as she came up to them she heard one of them say, `Look out now, Five! Don't go splashing paint over me like that!' 
– Chapter 8, Alice's Adventures in Wonderland
Of course you can paint it RED like the design team will be doing, but you can also use other colors. You need to tell us what item was painted, what technique you used, and give us a mention and a link of course!
We are sponsored this month by Creative Inspirations [

Store

 | 

Blog

], makers of wonderful shimmering paint which comes in almost 

60 colors

, including clear iridescent Fairy Dust.
They also carry hot fix 

Jeweled Inspirations and Metallic Inspirations

; I am particularly intrigued by the latter as they look like brilliant nail heads. The Altered Alice design team will be using Garnet paint, a bright sparkling red, and I hope the Creative Inspirations design team might decide to play along! The winner of this month's challenge will receive five colors of their choice.
Enter by 11:59 p.m. EDT (Eastern Daylight Time, UTC -4:00) on Friday, August 26. The winner and honorable mentions will be announced on August 28, the last Sunday of the month.
My inspiration piece is a vase of metal roses with petals cut from yet more of the Guinness can flats I've mentioned here so often.
We don't drink cases of this stuff every day, by the way. We only enjoy celebrating St. Patrick's Day a lot. For the entire month of March. Sometimes we start early, say February.
Anyhow, the flowers are layers from the Holtz Alterations tattered florals die: I ran the die through six times to end up with really "thick" flowers with extra layers. Next the layers were bent and curled and punched through the center then spray painted with white high-gloss enamel paint.
The leaves, cut from the Holtz Alterations tattered leaves die, also were curled and bent before being painted with high-gloss enamel in green: Veins were added beforehand as well, by "drawing" them on with a piercing tool.
After the enamel dried the flowers were combined with craft wire attached to button centers. The wire is threaded into copper tubing from a toilet repair kit with a drop of glue at the top to steady the bud.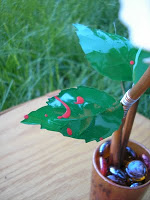 Wire also is wrapped around the leaf ends where they meet the copper tubing "stems."
Finally, and the best part, we have one rose painted with Creative Inspirations Garnet glimmer, and a few droplets left behind by that crazy Five card who can't seem to control his brush.
This glimmer paint is truly amazing in it's reflective nature that has a lavender-pink shimmer! Another fun aspect of this product is the viscosity: You won't have to worry about it dripping and dribbling and going everywhere you do not want it to go.
My creative "drips" were actually a tricky achievement; isn't that wonderful? I love paint that doesn't easily splatter and trickle here and there!
Though I did find it ironic that the one freakin' time I actually wanted paint to drip … I had to work to fake the effect.
OK folks, it's still early in the month so no excuses for you not getting an Altered Alice piece finished and posted by August 26!