More than  a year ago I picked up the Cute Skulls mini set from Bugaboo Stamps and turned the digistamps into a birthday gift for a friend: A fun, funky set of stem charms in a storage tin.
I started with an Altoids sours tin (can you get them anymore? I don't know) and a can of soft pink spray paint. The paint is a wonderful Krylon product that covered the Altoids manufacturer printing in only two coats and dried completely in only a few hours.
Next I cut a skull stamp using a Cricut machine and the Cricut stamp material. I then stamped the skull with black archival ink onto the top of the sprayed tin. One wee bow and a few sticky gems later and the stem charm tin is finished!
Next I cut a piece of heavy black card stock to fit inside of the tin and covered that with pink sticky-back felt. I cut six slits into the felt and added a hitch fastener to the center for easy charm storage and removal.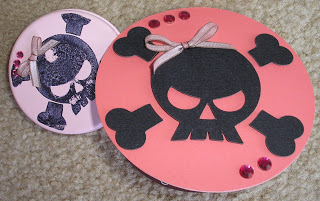 The charms, each featuring a different Bugaboo Cute Skull, were printed on white shrink film and shrunk before being coated with Krylon clear.
I attached each shrunken skull to a bit of chain with a lobster claw clasp at the end to wrap around and attach to a glass stem.
And there you have the gift! That's so easy for quite a neat little surprise, isn't it?
So, if you want to take all of this to the next level as I did, print a sheet of the Cut Skulls "designer paper" and use a paper cutting machine to cut a tiny gift bag.
I also used the same die cut design from the Cricut stamp cut mentioned earlier to cut a heavy black stock skull which I employed to make a gift card that mimicked the tin with another bow and more fake gems.
Ain't it neat? I think so, too!
Although I was annoyed to discover that my friend doesn't like pink, she only has some of it because it's been foisted on her … her personal favorite is red.
Oh well. I guess I'll just have to find another round Altoids tin!