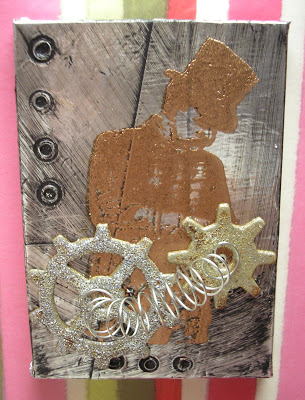 Only as I'm writing this does it cross my mind that I could have used paper or cardboard just as effectively for today's project, but it seems I can't stop using my wood ATCs!
Anyway this looks cool as a thick piece.
Alright, so today we're looking at a wood ATC wrapped in Nashua Premium Foil Tape (seven bucks at Home Depot!). Details here were added with an embossing tool (to create the "rivets") that were then rubbed with black paint. Using a dry towel I wiped off most of the paint while it was still partially wet.
The two cogs are cut from chip board using Movers & Shapers dies. I sprayed the cogs with Krylon glitter blast, and managed to add an aged look by dipping them in a pool of tea dye distress stain that I dried with a heat gun.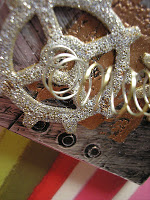 Our top hatted man is from a Wendy Vecchi set and is heat embossed in copper.
Finally, and whew am I glad we're at the last step because I've begun to despise describing the details that go into these projects, I wound 24 gauge wire around a pencil to create a steampunky coil. The coil ends are pushed into holes made with a Dremel tool and secured on the back with a sticky-back magnet.
So, yeah, as with so many of my wood ATCs this also is a magnet.
Thanks for dropping by and telling me what you think of this project!