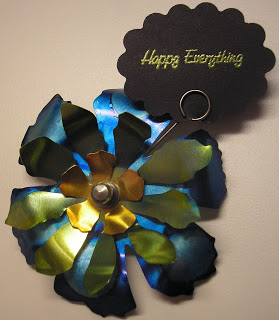 Had I never learned anything at all from the Compendium except Mr. Holtz's alcohol ink-colored metals technique I still would have been giddy with excitement!
And so my brain went to work on possibilities when our Lovely Linda at Studio L3 announced this technique, found on page 56 of The Book, as the week's challenge.
Metal bits of various sizes and shapes passed through my mind, birds and book plates, tokens, foliage and sprockets: Alas, though the technique is a favorite, I found no inspiration for a project.
Luckily roof flashing warbled in the background, louder and louder until I finally gave in and ran a chunk through the Cuttlebug atop a Sizzix Alterations Tattered Florals die.
This essentially embossed the metal: I was able to remove the flower shapes, but they didn't separate instantly as paper die cuts.
Then, as so often happens because it annoys the crap out of me: My Guy offered an ingenious suggestion. Cut apart a soda can for a thinner, more pliable metal (could you hear me slapping my forehead?).
Tada! Instant metal flowers!
Of course, the most exciting part is that while a standard soda can results in a bit of metal that isn't quite big enough to cut all four Florals flowers … surely you know what's coming next … a Guinness can fits nearly perfectly!
Is there any problem that Guinness can not solve? I think not.
So, we've got here a part roof flashing, part soda can flower with multiple alcohol ink colors. A hitch holds it all together, with a magnet glued onto the back and a memo pin to carry a message for the recipient.
I intend to spend all day tomorrow making more and more and more of these in different styles, so I hope all of my friends like them (everyone will be forced to take one or two because what the hell would I do with a bunch of these … my fridge is already covered in magnetic art).
Anyhow, while I'm busy hacking up Guinness cans, run off to your own craft space and create a piece for Linda's Compendium Challenge! You've got until 8 p.m. Sunday, February 27 (Mountain time)!