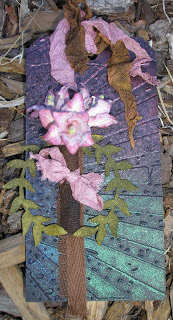 Challenge: The StudioL3 Compendium of Curiosities volume II Challenge, technique 16
Technique: Perfect pearls mist, page 54
Main products used for this project: Black card stock and large tag L die, perfect pearls mist in various colors, regal crest die, peeled paint distress ink and distress embossing powder, mauve mini lilies (from Alpha Stamps), rusty mesh (from the Funkie Junkie), and several miles of crinkle ribbon.
Project observations: Woohoo perfect pearls mist!
Fun and shimmery and colorful and always changing, perfect pearls mist never come out the same way twice, and that's a good thing!
They're awesome on a million different surfaces, too! Go ahead, lay your project in your bathtub and then spray away — you'll even be impressed with perfect pearls shimmer and shine on the porcelain!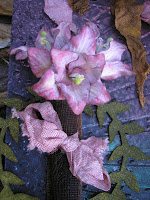 You won't even have to feel bad after realizing that the over-spray coated your all-white, organic cotton bath rug: You can wash the perfect pearls right out!
OK, I don't actually recommend the rug thing, I'm adding that as a sort of warning. Maybe be careful around beloved fabrics.
Otherwise, go wild folks! Enjoy!